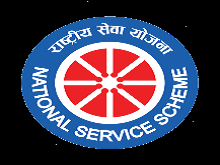 National Service Scheme (NSS)
National Service Scheme, under the Ministry of Youth Affairs & Sports Govt. of India known as NSS was launched in Gandhiji's Birth Centenary Year 1969.  In 37 Universities involving 40,000 students with primary focus on the development of personality of students through community service. The NSS is a voluntary program, and students from universities and colleges across India can participate in it.
Yashwantrao Chavan College of Arts, Commerce and Science, Koparkhairane, Navi Mumbai had started NSS in the academic year 2019-20, with fifty students of first and second year.
VISION:
The vision of National Service Scheme is to create a more engaged, responsible, self-reliant, and capable of serving and cohesive society by providing young people with opportunities to serve their country and their community.
MISSION:
The mission of National Service Scheme is to provide an opportunity for young students to participate in community service, personality development and social welfare activities. The scheme aims to inculcate the spirit of social service and volunteerism among youth.
OBJECTIVE:
The objective of National Service Scheme is the students are encouraged to engage in various community service activities such as blood donation camp, health and hygiene campaigns, literacy, education program and disaster management program. The NSS also provide opportunities for students to participate in national events such as Republic Day, Independence Day and Gandhi Jayanti, among others.